Refrigeration
As a leading supplier of Kitchen Equipment in Botswana, we also deal with associated services like Refrigeration Systems, Cold & Freezer Rooms. We design, supply, install and maintain refrigeration equipment.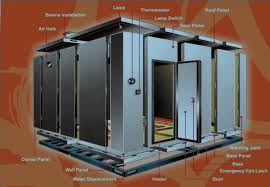 Refrigeration has many applications, including, household refrigerators, industrial Cold Roomfreezers, and air conditioning. Heat pumps may use the heat output of the refrigeration process, and also may be designed to be reversible, but are otherwise similar to refrigeration units.
Cold and Freezer rooms are used to store different products based on the industry they are serving like Catering, Butchery, Hospitals, Pharmaceuticals etc.
We supply the following brands of equipment: